Introduction to Kiosk Ticket Printers...
Also known as embedded units, kiosk ticket printers are designed especially for use in unattended terminals or 'kiosks'. Key features include an auto cutter and paper exit guide to allow un-skilled operators (i.e. the general public) to quickly and safely remove the ticket/receipt and a large paper roll to minimise the number of maintenance visits. Applications include information terminals, ATM's car park ticketting, self service receipting, photo booths, public weighscales etc.
Kiosk ticket printing is the most demanding application for miniprinters to endure. Presenting a ticket direct to unskilled operators, such as the general public, is prone to abuse (both accidental and deliberate). To protect the printer against this, it is essential that the user cannot gain access to the paper roll and kiosk printers acheive this by requiring seperate access to the rear of the printing mechanism. This is a main distinguishing feature between kiosk and panel mounted printers. Autocutters provide additional resilience by preventing paper from being pulled off the roll which is not only inconvenient but, physically extracting the printout at an angle can cause a paper jam. Further protection can be given if a dispenser or chute is incorporated. This allows a length of paper (generally up to 50mm long) to be printed before it emerges from the slot and becomes vulnerable. For receipts longer than 50mm, or for additional protection, a motorised presenter can be included. This system drives the receipt out of the printer only after printing has been completed and the cut performed. Longer receipts might benefit from a loop type presenter which can safely retain the print internally before finally dispensing it. For potentially confidential or sensitive data, a retraction facility can be specified to withdraw and internally store the receipt if the user forgets to take it from the presenter.
Kiosk Ticket Printer Mechanisms...
Axiohm KPS Range
REXOD RMP5360
REXOD RMP8300
Custom KPM180H
REXOD RMP800 Series
Custom KPM216HII
Kiosk Ticket Printer Modules...
Custom TG02H
Axiohm KALYPSO
Custom TG1260H/TG2460H
REXOD RX531 Series
Woosim Porti T80/200 / T380
Custom TG2480H
Custom VKP80II
Custom VKP80III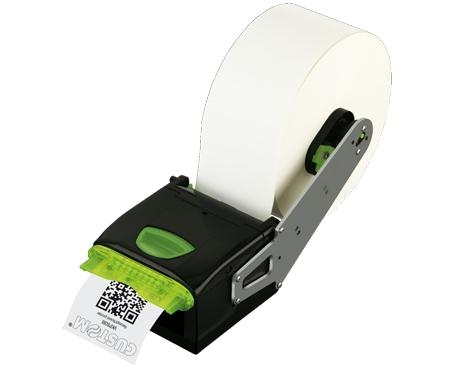 REXOD RX831 Series